The HRMS dashboard is a centralized interface offering essential metrics and analytics for efficient human resource management. It provides an overview of employee data, performance metrics, and leave status, empowering HR administrators and managers with insightful information for effective decision-making and monitoring.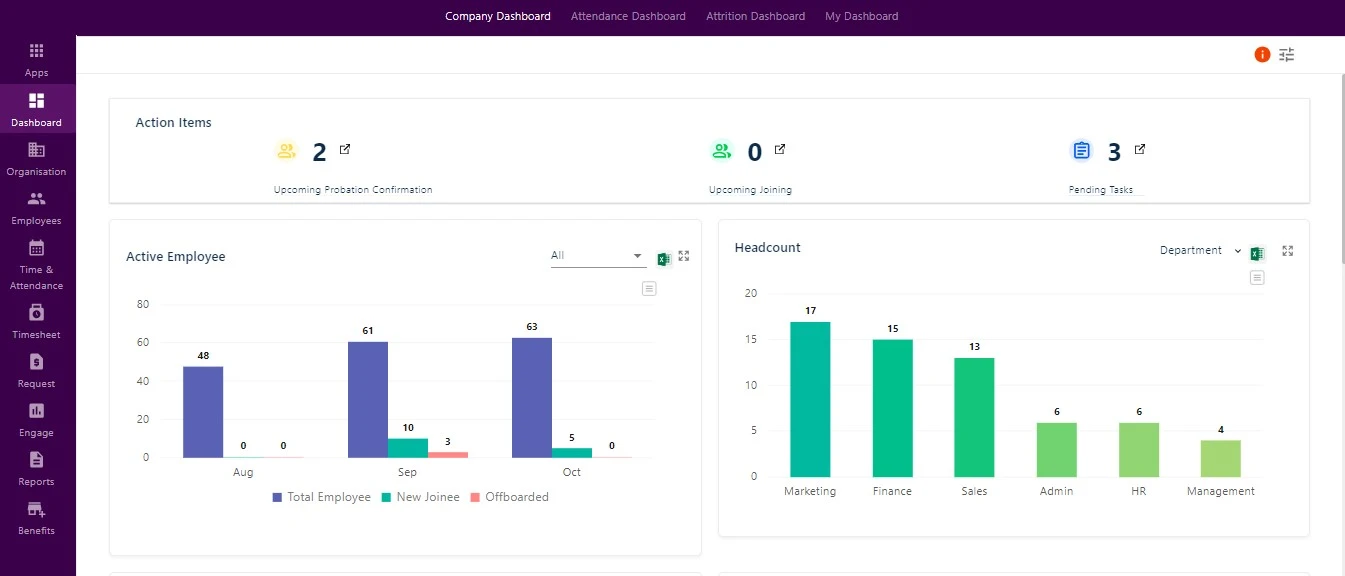 In the overview section, you can access the following metrics:
Within the company dashboard, the admin can access insights such as the count of upcoming probation confirmations, upcoming joinings and pending tasks. Clicking on the small boxes beside each metric on the right side provides the admin with a detailed list view.
The admin can view active employees and number of headcounts where they can apply filters for entities, departments, branches, designations, regions, and locations. Additionally, the admin can download reports in CSV file format for further analysis and documentation.
Accessing the filter menu at the top right corner, the admin can control the visibility of metrics on both the employee and admin dashboards, allowing for customized views based on preferences and access requirements.
In the attendance dashboard, the admin gains a holistic view, observing employees on leave, working remotely, present, and absent. Metrics comparing average working hours and employee productivity are available. Arrival time metrics indicate employees on leave or arriving late. Filters based on entities, branches, locations, etc., can be applied, and monthly insights are accessible.
Core HRMS→ Dashboard→ Attendance Dashboard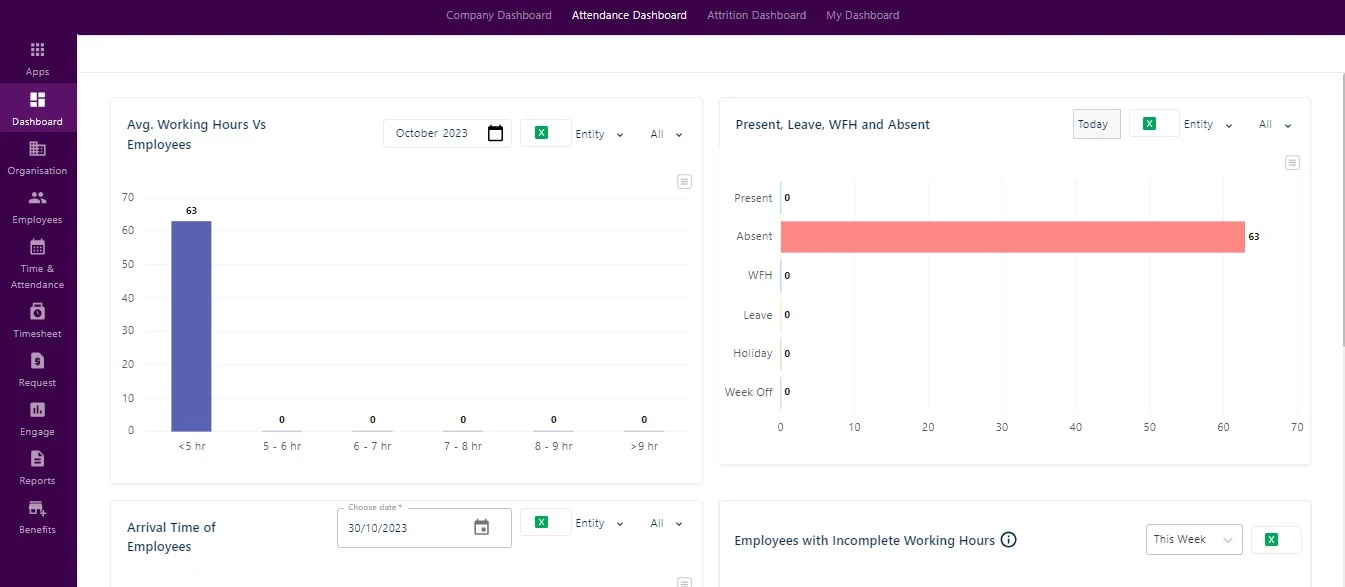 The attrition dashboard provides metrics for admin insights into attrition reasons, tenure-based attrition, age-based attrition, and attrition rates by department, designation, and location. Admin can apply monthly filters and download reports in various formats like JPG, PDF, PNG, CSV, etc.
Core HRMS → Dashboard → Attrition Dashboard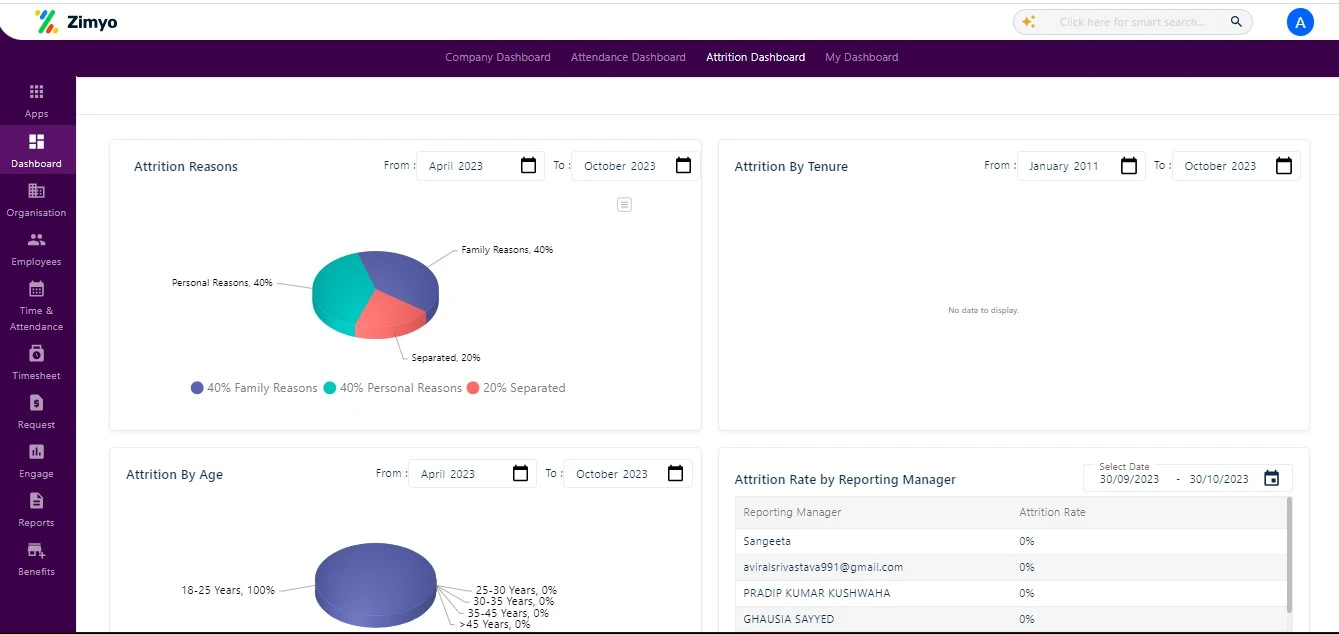 In the "My Dashboard" section, the admin has visibility of various dashboards such as company, management, and manpower dashboards.
In the dashboard section, the admin can configure, export, and remove charts from the dashboard. Admin can rearrange the priority of metric charts by dragging them to different positions as needed.
Note: Dashboards can be created in the dashboard library under the organization section.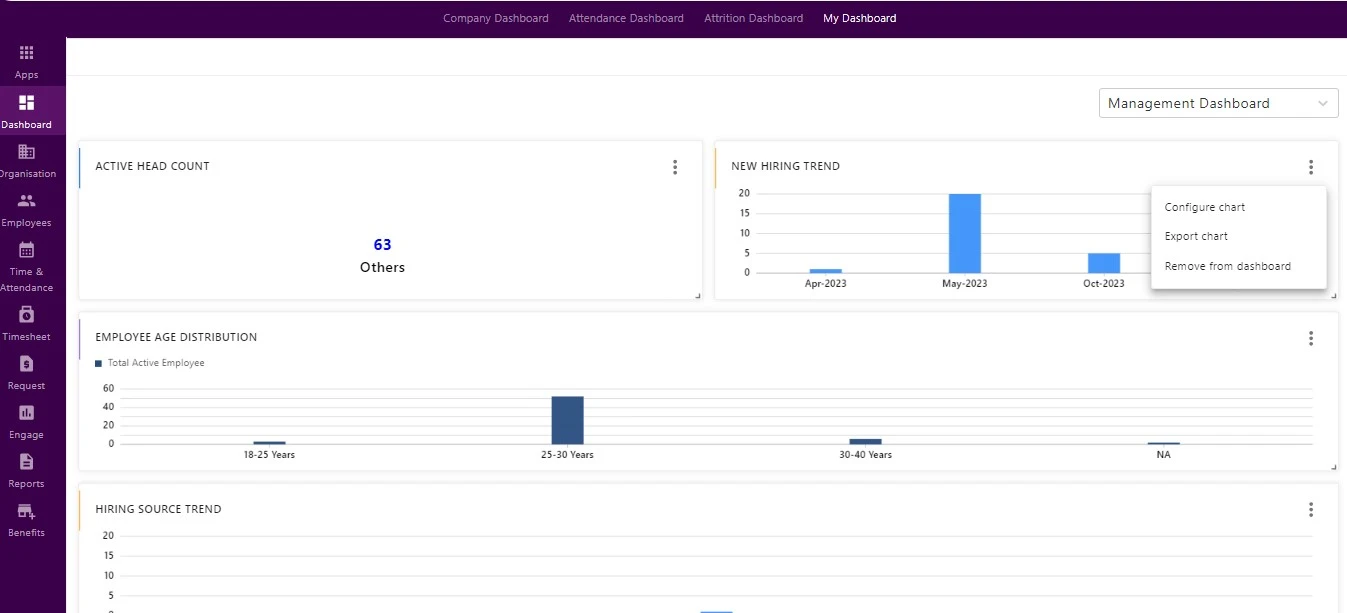 Clicking on the three dots allows you to access the "Configure chart" option. Admin can view and customize the specific metric by defining coordinates and applying filters such as department, location, designation etc.
Core HRMS→ Dashboard→ My Dashboard→ Click on kebab menu→ Configure Chart