Timesheets offer several benefits, including accurate time tracking for billing and payroll, improved project management through resource allocation insights, enhanced productivity by identifying time-wasting activities, and better performance evaluation. 
They ensure transparent client billing, compliance with labour laws, and efficient resource allocation, leading to cost savings and increased profitability. Timesheets also support project planning, helping teams meet deadlines and deliver high-quality work.
The administrator can have a holistic view of all projects, all clients, all billable hours, and the estimated total cost of all projects in the timesheet dashboard. The administrator can download reports on clients versus approved hours, projects versus approved hours, projects versus employees, and projects versus approved hours for a lifetime, and they can apply filters based on date and status.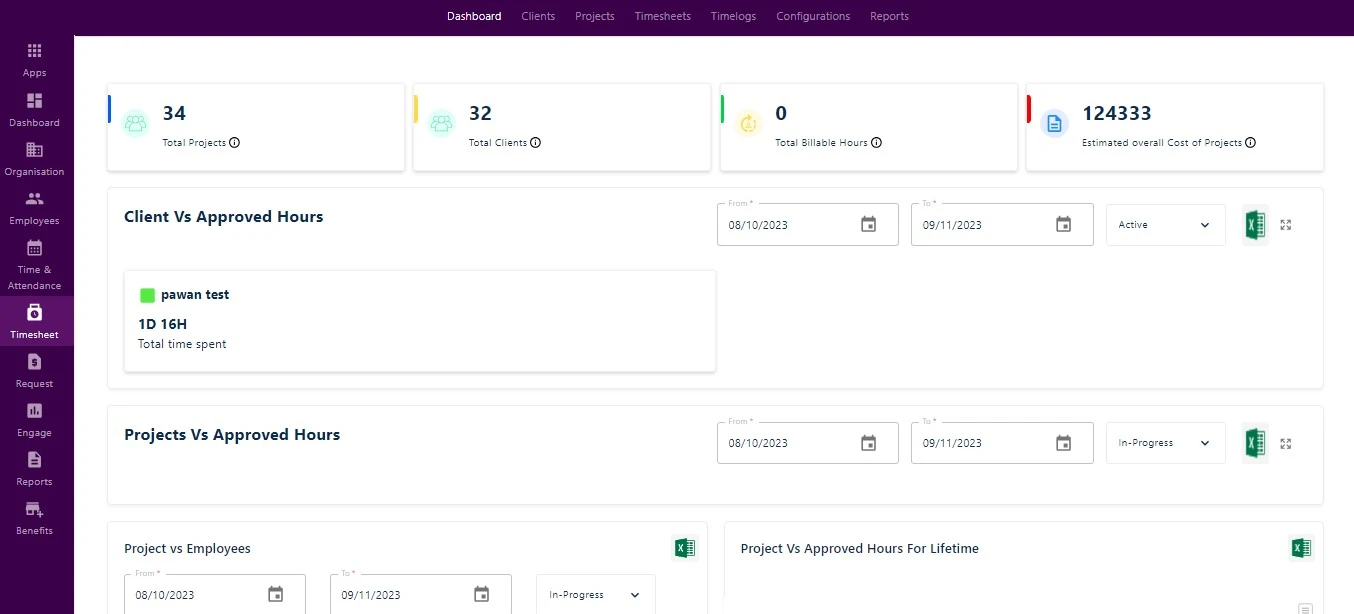 Administrators have the ability to conveniently access an overview of all clients directly on the screen. In our improved Timesheet module, administrators have an access to a centralized view of key client information:
Single Point of Contact (SPOC): You can easily identify the designated single point of contact for each client. This ensures efficient communication and coordination between your organization and the client.
Number of Active Projects: You'll be able to see the total count of active projects associated with a particular client. This information helps in workload management and resource allocation.
Number of Project Managers: We provide insights into how many project managers are actively working on a specific project. This helps in understanding the project's management structure and resource distribution.
Mapped Currency for Billing: For billing purposes,  Admin can map the currency to each client. This ensures accurate billing for a project.
Client Status: You can quickly manage the status of each client, whether they are active, inactive, or have deleted
Click on Admin Portal
Move to Timesheet
Click on the Clients section

Take Action
The "Take Action" button is a great step towards enhancing the functionality of your Timesheet module. Here, administrators have the flexibility to create clients either manually or in bulk, making the client management process more efficient and user-friendly.
Add client manually
Go to "Take Actions" ➡️ Click on Add Manually ➡️ Fill in the details given in the Structured Form.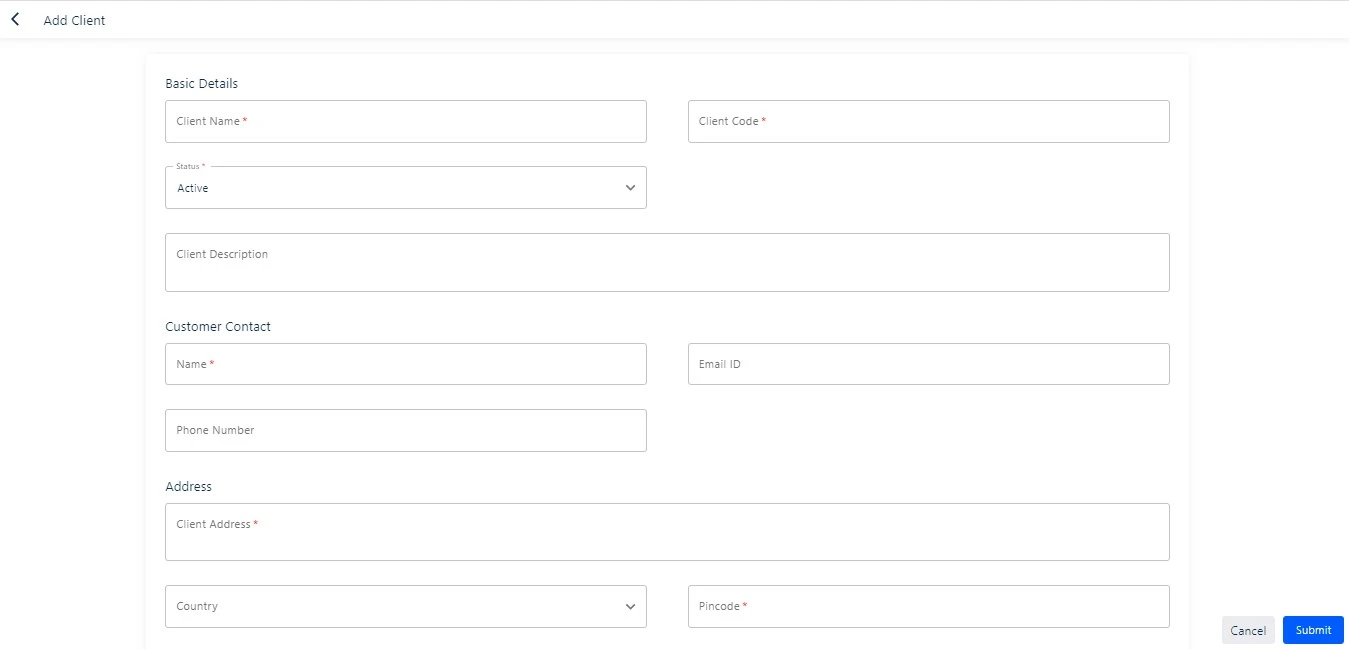 Add client in bulk
Go to "Take Actions"➡️Now click on "Create Bulk" ➡️Download the template given in the Excel format.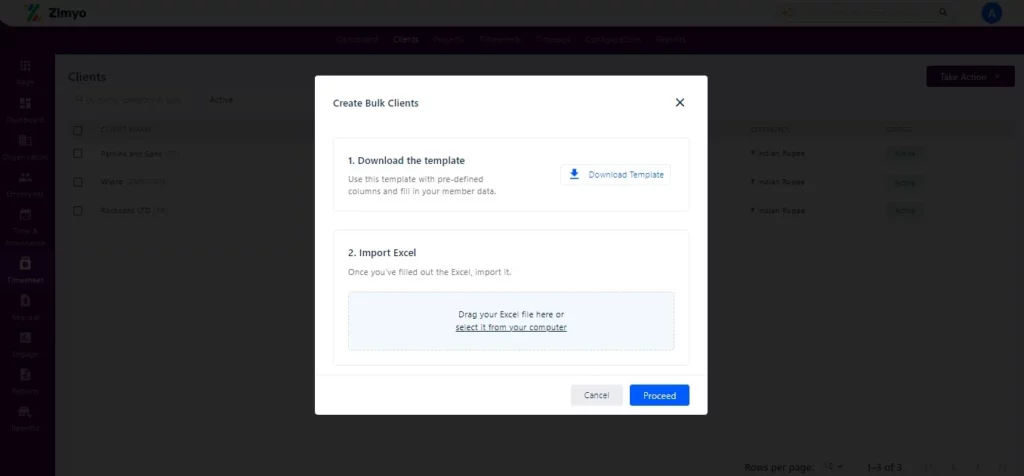 Client Details on a click
With this comprehensive view, administrators can efficiently manage client relationships, monitor project-related details, and ensure accurate billing and project management. It streamlines the workflow and enhances the user experience for both administrators and clients.
Details: By simply clicking on the "client" option, you can access comprehensive details for any specific client, providing you with a more in-depth understanding of each client's information and enabling better management.
Projects: we've enhanced the Timesheet module to provide administrators with a comprehensive overview of all the projects associated with a specific client.
Billings: In the Billing section of our enhanced Timesheet module, administrators and users will have the ability to access and review detailed billing information for specific projects associated with clients.
Permissions: The permissions section offers administrators the flexibility to grant specific authorities to different user roles, including Project Managers, Project Coordinators, Reporting Managers, and Team Members.
Go to "client list"
Now click on "particular client"
Access the complete client details.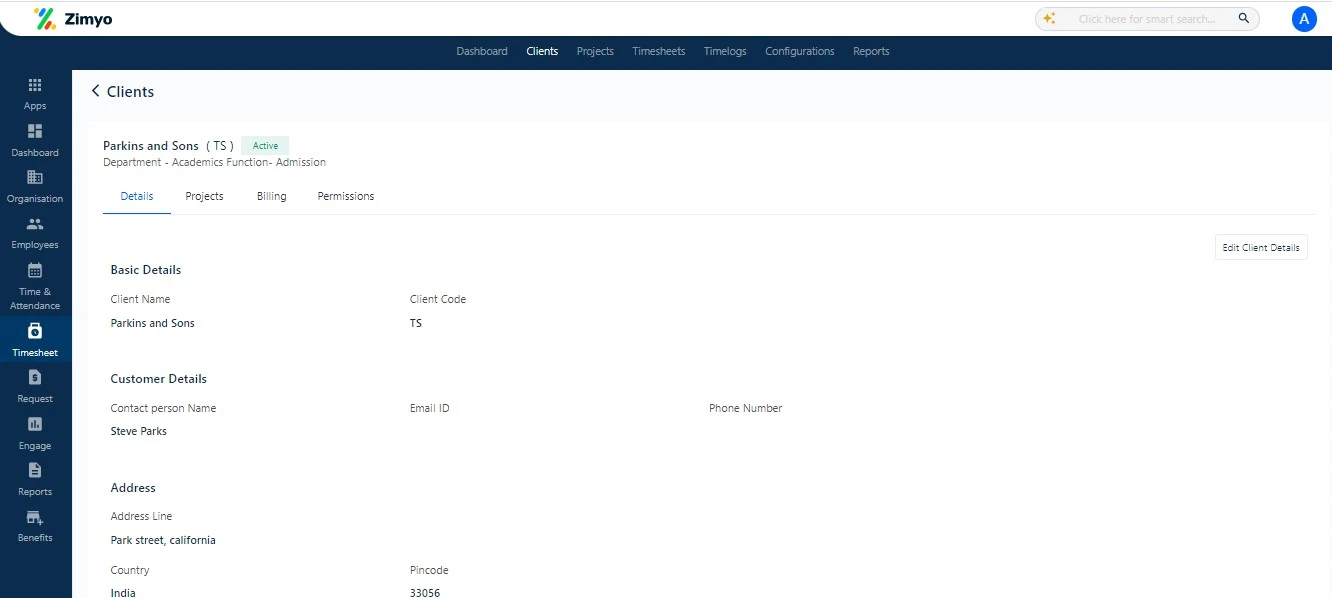 Note💡 : By clicking on "Edit Client Details" the admin can edit and change the details of the client.
In the Project Section of Timesheet module, administrators have access to a comprehensive view of project details, facilitating efficient project management. Here's what you can expect to see:
List of Projects: The interface displays a list of all projects, allowing administrators to quickly review and select a specific project for more detailed information.
Approved Hours Spent: For each project, the system provides information on the total approved hours spent. This metric helps in monitoring project progress and resource allocation.
Number of Team Members: Administrators can see the number of team members assigned to each project. This provides insight into the project's team structure and helps in resource allocation.
Team Member Details: By clicking on a team member's name within a project, administrators can access complete details about that team member, including contact information, role, and task assignments. 
Project Manager: The name of the project manager responsible for overseeing the project is displayed. This ensures clarity in project ownership and accountability.
Project Status: The system clearly indicates the status of each project, whether it is marked as completed, on hold, or in progress. This allows administrators to easily track the current state of all projects at a glance. An admin can also gain insight into the start date & end date of the project.
Go to "Project list"
Now click on "particular Project"
Access the complete project details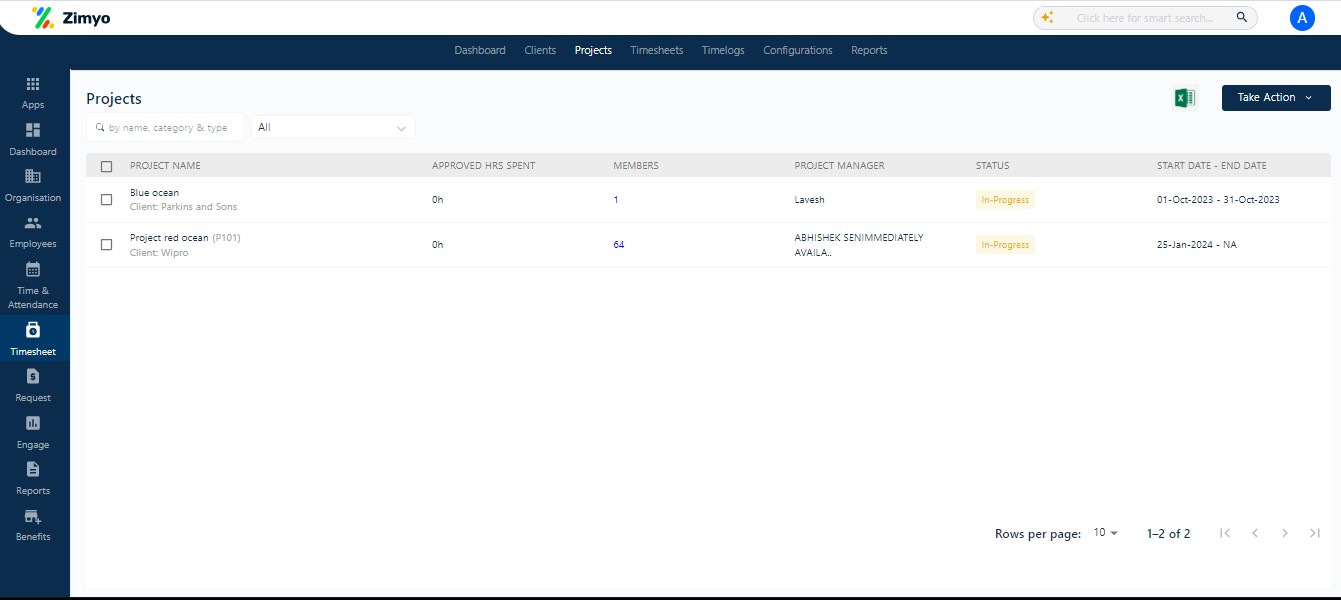 By clicking on the "Take Action" button, admins have the flexibility to create new projects either manually or in bulk, Here admin can also map members for the projects.
Add Manually
The ability for admins to manually add new projects by filling in essential details. Here's how this manual project creation process typically works:
Fill in Client Details: The administrator starts by selecting the client for whom the project is being created. This may involve choosing from an existing client list or adding a new client's details if necessary.
Applicability: here admin can select the project manager, add members manually, and select the project coordinator.
Approval workflow: It allows the admin to create the approval hierarchy for project management. Here admin can also enable external approver for projects.
Go to "Timesheet"
Now click on "Take action"
Select "Add Manually" and fill in all the necessary fields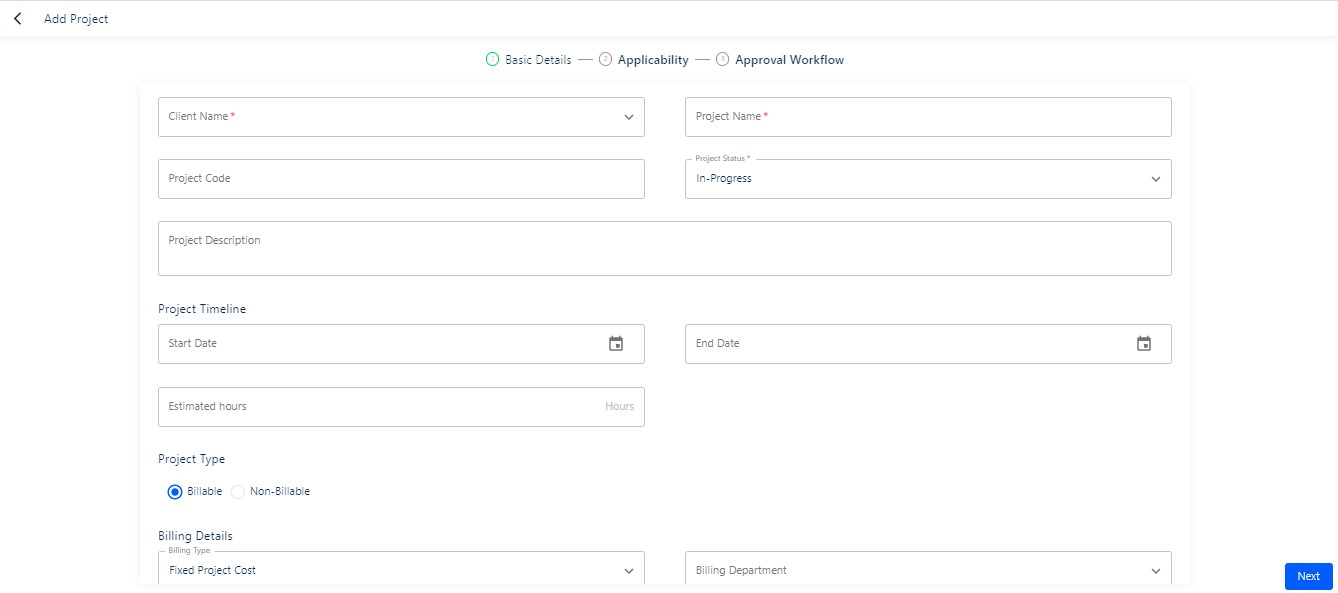 Add Project in bulkGo to "Take Actions" 
Now click on "Create Bulk"
Download the pre-defined template given in the excel format and import it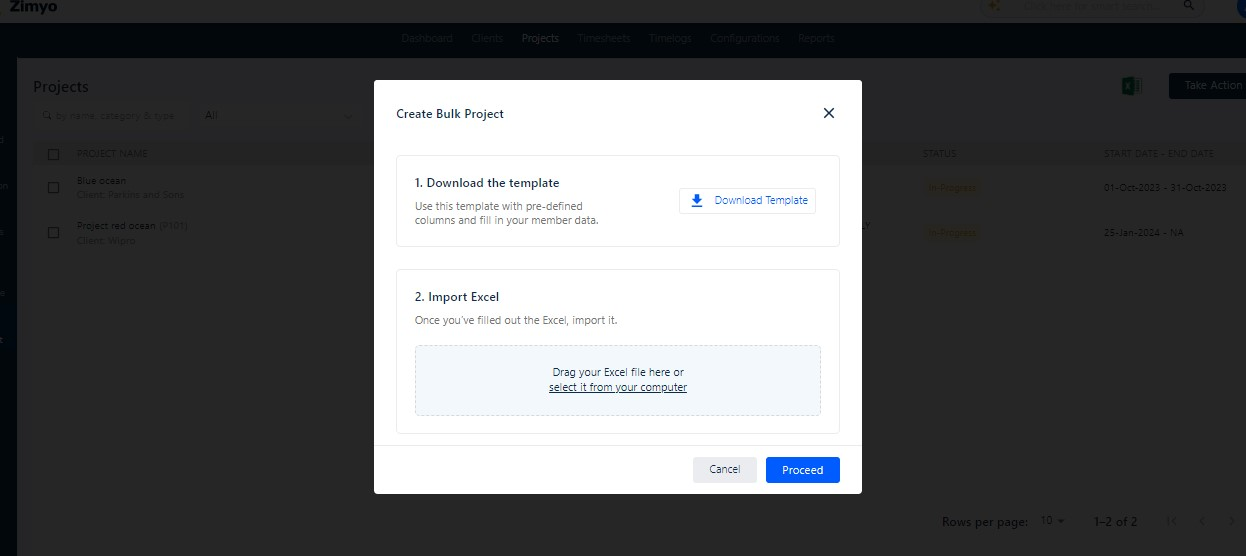 Project details on a click
Clicking on a project allows admins to view:
Project Details: Name, client, timeline, type, manager, and status.
Project Approvers: Individuals with project approval authority.
Task Categories: These task categories can be linked to project milestones, providing a structured way to track progress and align project tasks with key project goals and achievements.
 Project Milestones: Project milestones represent significant project achievements or stages that mark progress toward project completion.
Billing Details: Admin can manage Rates, currency, and billing terms and types.
Team Members: Names, roles, contact info, and tasks.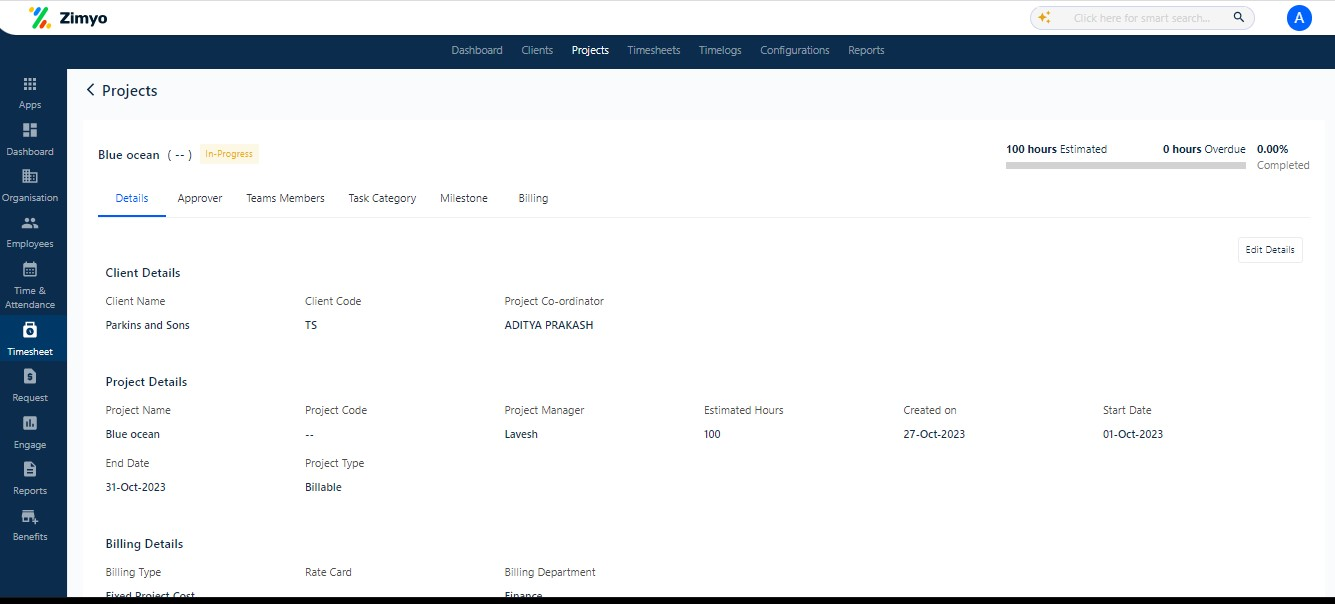 Note💡 : The admin can add an external approver for the project. As shown below in the screen.

Roles: In the Role section, administrators have the capability to define and create multiple roles tailored to different aspects of project management within the Timesheet module.
Rate card: A structured document that outlines the monetary value assigned to each specific role within an organization with the measurable unit. It establishes standardized billing rates for the services provided by employees working on various projects or tasks.
Note:  we can delete certain roles but for most created roles, which are tagged with any rate card, that role cannot be deleted.
Go to "Timesheet" Now click on "Configuration"  Select "Rate Card" and fill in all the necessary fields