In HRMS, Asset management  involves the systematic administration and tracking of assets owned or utilized by the organization. This includes maintaining records of assets, monitoring their usage, managing maintenance schedules, and ensuring compliance with policies. Admin can streamlines the process of handling company assets, providing a centralized and efficient system for tracking their lifecycle from acquisition to disposal.
Within the asset dashboard section, the admin gains a comprehensive overview of asset status, type, category, and trends in assignment and return. The admin can monitor the number of available assets, assets assigned, those out for repair, lost, and stolen. The asset category provides an overview of various asset categories, while the asset type section allows the admin to view different types of assets. 
This dashboard feature enables effective asset management in one centralized location.
Organization → Assets→ Dashboard

In this section, the admin has the ability to generate multiple asset categories. Within these categories, the admin can create various asset types tailored for organizational purposes.
While creating asset type, the admin can choose an icon from the icon repository that represents the specific asset. The admin then fills in the asset description and defines the asset category.
Organization → Assets→ Asset category and type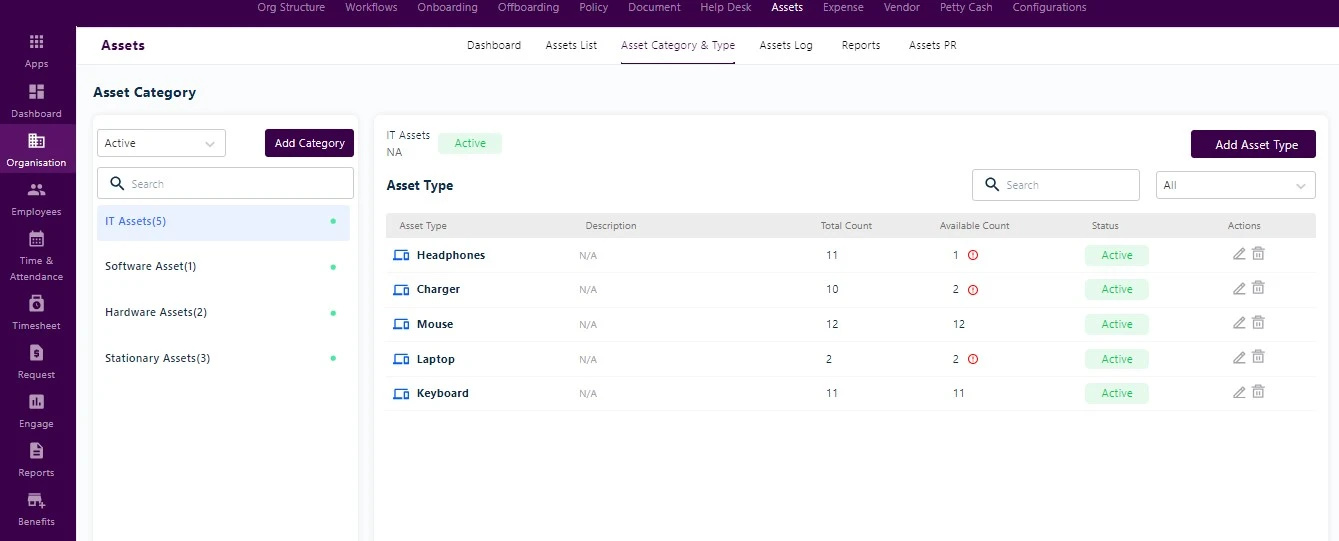 In the asset log, the admin can access comprehensive information related to assets. This includes details such as asset types, asset ID, asset description, category, and the location of the asset.
Organization → Assets → Asset log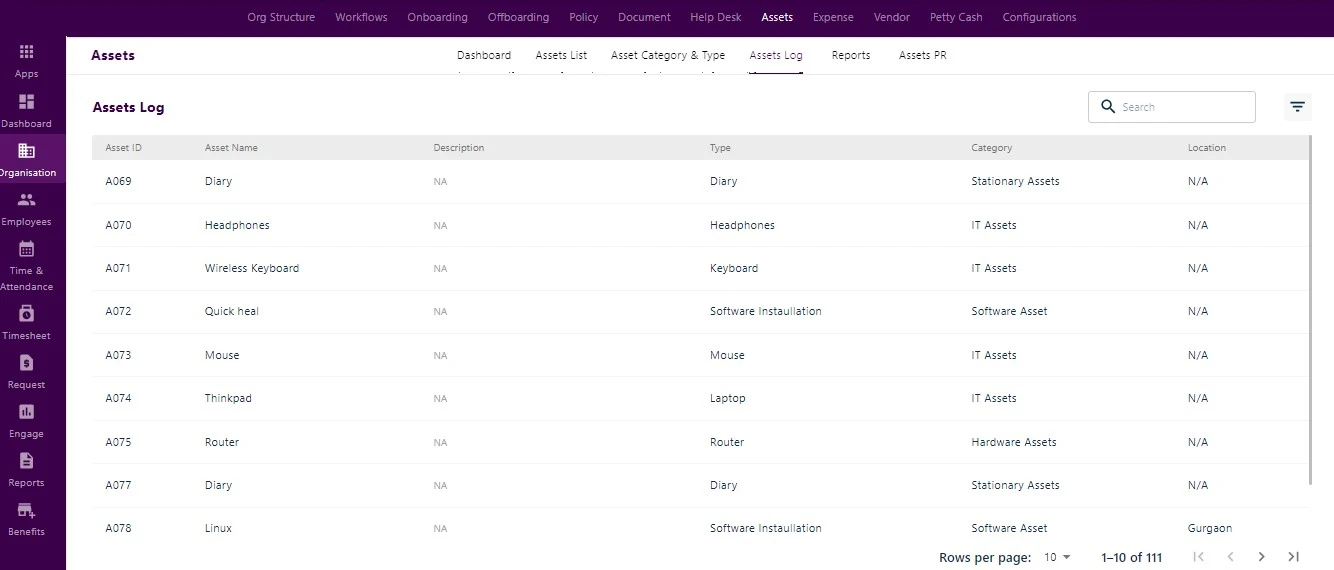 Within the asset list, the admin initiates the addition of a new asset by selecting "Add Asset." The admin gains a comprehensive view of assets, including asset name, code, type, assigned employee, and the acknowledgment status. Clicking on the asset name provides the admin with detailed information about the asset.
Organization → Assets → Asset list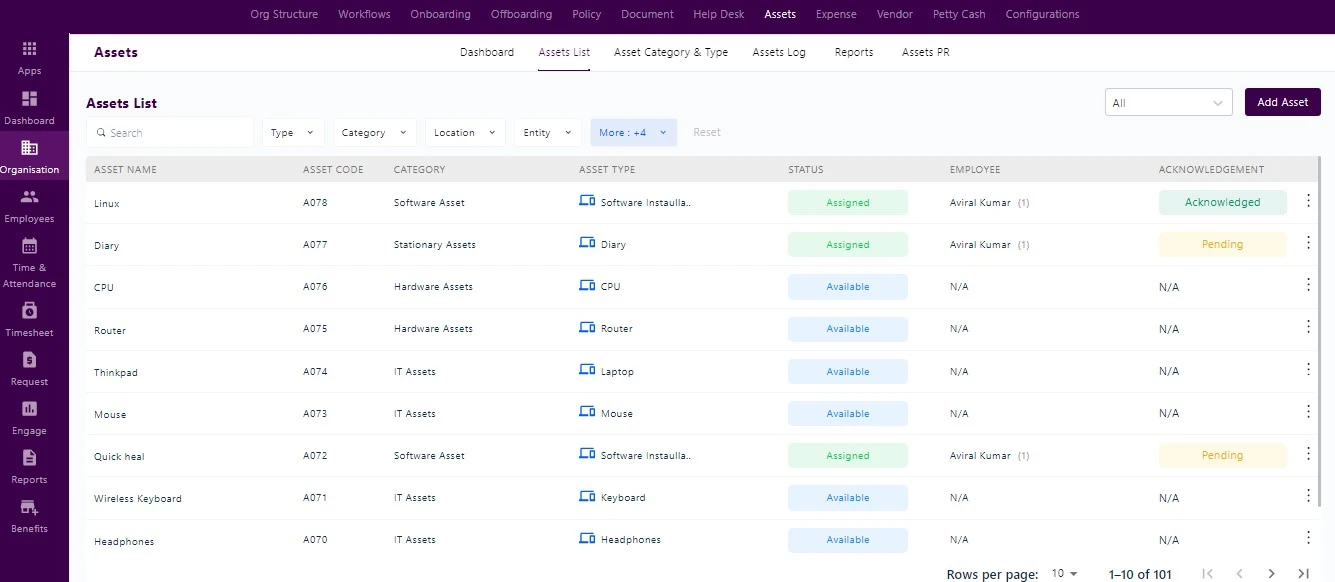 Clicking on "Add Asset" the admin is required to fill essential details like asset name, description, and specify its category and type.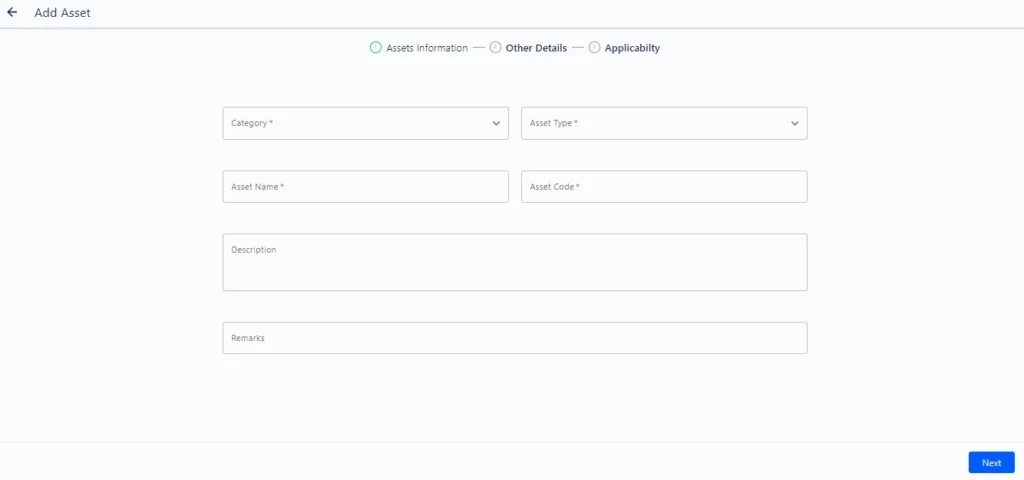 Clicking on the three dots displayed on the right side of the screen empowers the admin to undertake various actions, including assigning assets, extending warranty, marking as lost, marking as archived, and more.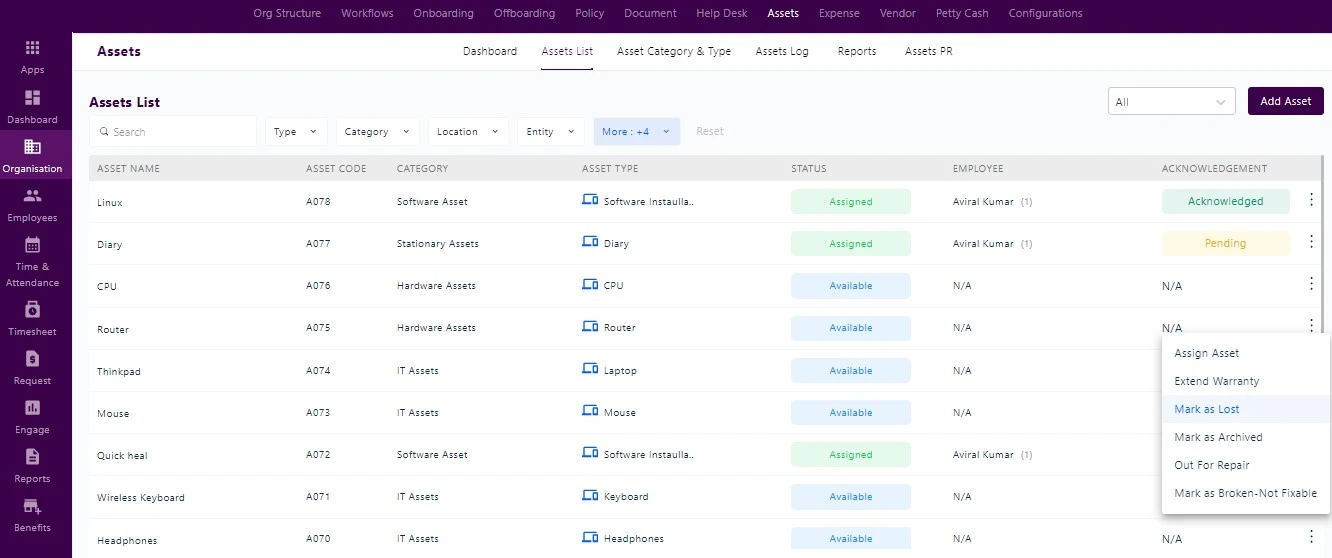 The acknowledgment status indicates whether the employee assigned a particular asset has acknowledged it or not. Employees can acknowledge the asset from the Employee Self-Service (ESS) portal.
An asset PR (Purchase Request) is initiated by the admin to acquire a new asset, and it is directly forwarded to the purchasing department. This process streamlines asset procurement based on organizational needs. Clicking on "Raising PR Request," the admin is required to fill essential details such as the type and category of the asset, budget, PR value, units, and more.