Yes, you can keep the survey responses anonymous. You can do so by following these simple steps.
1. First, log into your Zimyo Account.
2. Then, you will land on the all applications page.
3. Click on the tab "HRMS application".
4. This will take you to the dashboard
5. On the top of the screen you will see numerous menus including- Dashboard, Engage, Request, Calendar, Reports, Others.
6. From the header click on "Engage".
7. This will navigate you to the following dashboard: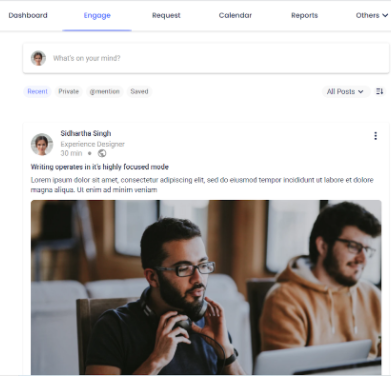 8. If you want to create a survey, then click on "Survey" from the menu on the left side of the screen. The following screen will appear.

9. To create a new survey, click on " Create New" on the top right-hand corner of the screen. This will take you to the following screen.

10. From here, you can add questions for your survey by clicking on "Add Question" at the bottom of the survey introduction.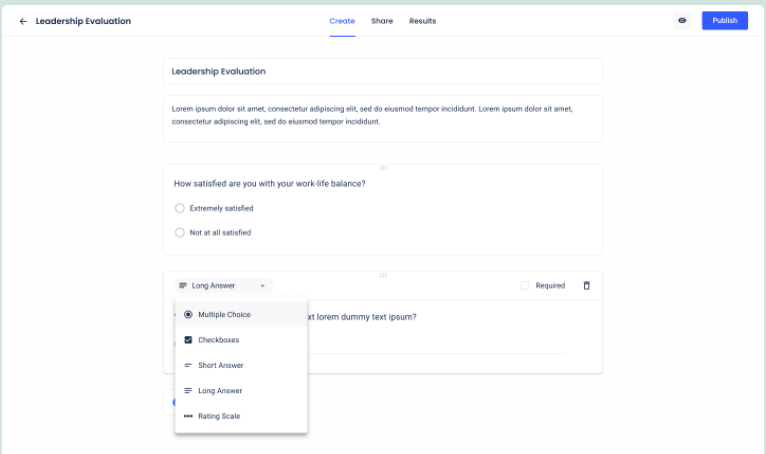 11. You can choose the question type (multiple select, single select, short answer, long answer, rating scale) for your survey.
12. After choosing your question type, you can start adding questions to your survey.
13. Prepare your survey questionnaire and then click on "Share". This will take you to the following screen.
14. Click on "Share with" and you will see a dropdown menu as shown below.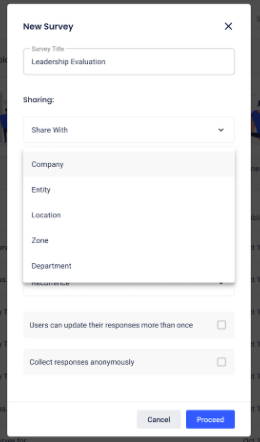 15. From here you can choose the company, department, entity, location, and zone you want to share your survey with.
16. In the same template, you will see the option " Collect responses anonymously", check the box and click on "Proceed.
17. Then click on "Publish".
18. Once you click on "Publish", you will be landed on the following page. Here, you can see your survey title and responses as well.