Our employee engagement module "Engage" is specifically designed to help organizations establish, enhance, and refine company culture while boosting productivity.
Some of the key features of "Engage" include:
Organization Social Networking- Enhance internal relationships by virtually networking with your team and organizing virtual fun activities.
Employee Recognition Platform- Recognize and reward your employees' efforts by providing them with badges, coupons and creating a leaderboard.
Senti-Meter- Take the pulse of your employee's moods by creating customized surveys or polls.
Announcements- Make company-wide announcements, share news and alerts, celebrate milestones, and create a company album.
Discussion Room- Participate in meaningful discussions related to company policies and hold appraisal meetings.
Breakroom- Make remote working fun and engaging with our platform by hosting virtual fun activities, events, or meetings.
How to log into Engage
1. First, log into your Zimyo Account.
2. This will take you to the homepage. From there, click on the "ESS" tab.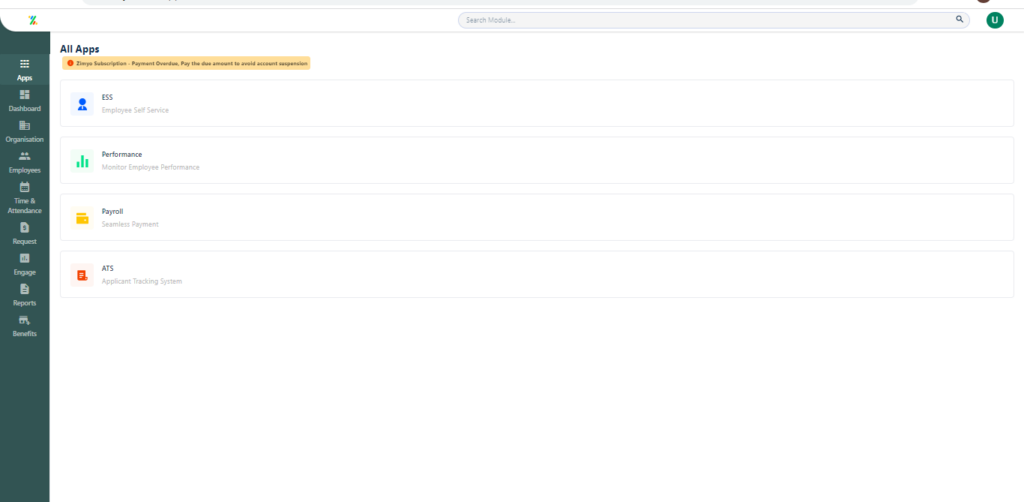 3. This will take you to the dashboard.
4. On the top of the screen, you will see numerous menus, including- Dashboard, Engage, Request, Finance, Benefits, and Others.